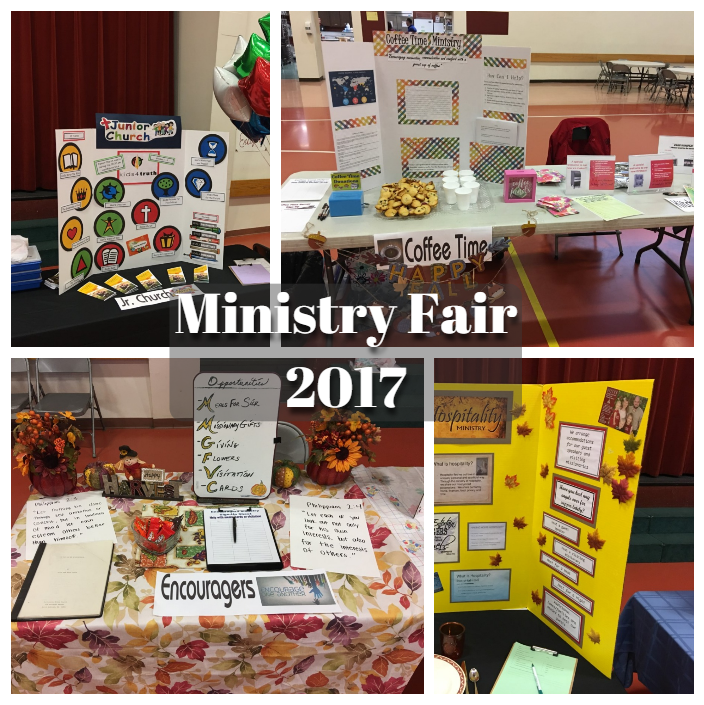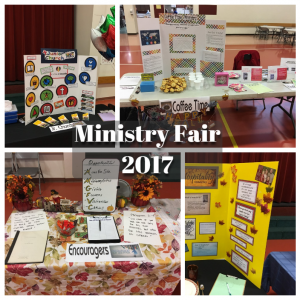 On Sunday, October 22, 2017, Fellowship Bible Church hosted its biennial Ministry Fair. In Mark 10:45, Jesus said, "I did not come to be served, but to serve and to give my life as a ransom for many." Serving the Lord, serving one another, and serving the community are staples in any Christian's diet. At Fellowship Bible Church, many opportunities for Christian service exist in the form of organized and ongoing ministries. These ministries were put on full display during the Ministry Fair last Sunday.
The morning began like any other Lord's Day with teachers and students arriving for Christian Growth Class at 9:00 AM. However, because the multi-purpose room was set up for the Ministry Fair, the regular coffee time ministry normally occurring between CGC and the morning worship service was limited to offering a cup of coffee or tea in the hallway.
On Saturday afternoon and early Sunday morning, ministry directors were busily arranging their displays on tables that were set for the purpose in the multi-purpose room. Sunday morning worship was slightly shortened to allow time for the church to migrate into the display area by 11:30 AM. Pastor Dan's message about the functionality of the body of Christ was appropriate for the occasion.
At the conclusion of the morning worship service, the congregation was invited to spend time visiting the displays, and to do so with an open heart asking how God might direct them regarding participation in one of the many ministries of the church. Many, many people stayed and took advantage of the Ministry Fair. Some, who had not been regularly serving, were challenged to begin participating, and ministries that were lacking personnel received much needed volunteer help.
The senior class from FCA was present to sell lunch items to those who were visiting the fair. A big thank you goes out to the class for providing good food, reasonable pricing, and excellent service!
Overall, the Ministry Fair was a great success with all of the major ministries of the church represented at the fair. A booth was set up for church members to update their database profile picture. Another was set up to help new users navigate the CCB interface. Children's ministry, youth ministry, teaching ministry, school ministry, grounds ministry, technology ministry, outreach ministry and many more had their opportunity to share what their particular ministry is all about and what God has been doing through them. We are praying that God will use this day to "stimulate one another unto love and good works." Heb. 10 24